La Nucia - Alfaz Del Pi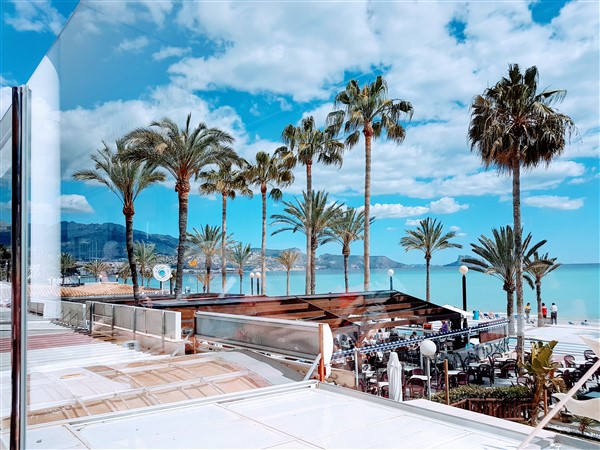 L'Alfàz del Pi and Real Estate Immo
From L'Alfàz del Pi towards the sea, you can see the 'Paseo de las Estrellas' with stars like on the Walk of Fame in Hollywood, a tribute to the many actors and actresses that can be found here in July.
On top of the cliff of Albir (Punta Bombarda) is the lighthouse with magnificent views over the Mediterranean sea, El Peñon de Ifach and Altea, the town in the hills with its clearly recognizable Lighthouse Albirkerk with blue domes. The lighthouse can only be reached on foot (5 kilometers).
You can also visit the botanical sculpture garden (20,000 m2) by Jan Klein and Joke Schreuder in L'Alfàz del Pi. A garden walk with lots of scented flowers and plants, fitting into a regional architecture. There are 21 statues of mainly young Spanish sculptors in the garden.
Shopping in Albir
On the main street of Albir there is a nice market every Sunday morning and on Friday morning you can visit the market in L'Alfàz del Pi, near the church. Visit the busy market in the nearby Altea on Markt Alfaz del Pidinsdagmorgen or the big market in Benidorm on Sunday. All markets can be easily reached by public transport or by car. Then a walk on the marble promenade of Albir and a 'menu del dia' or a 'cerveza' (the men are ready!) In one of the many bars or restaurants along the beach. The park river crosses halfway along the boulevard which is planted with palms and shrubs.
Playa Albir – Real estate Immo
Is dotted with nice smaller shops but also supermarkets for daily needs. If you really want to go shopping then Benidorm is a more appropriate place.
Nightlife and restaurants Albir
There are many types of restaurants in Albir and l'Alfàz del Pi. From breakfast, lunch on the beach, tapas to BBQ with spare ribs, burgers and of course Chinese and fries. Furthermore French gourmet, Italian or Indian or typical Spanish. But also restaurants with real table linen, where the main menu is served on tasty hot plates so that the food does not cool immediately, with high-quality dishes. Tip: for the real vibrant nightlife, Benidorm is the place to be.
Real estate in Spain, Spain Real estate
L'Alfàz del Pi en Real estate immo
Van L'Alfàz del Pi richting zee bevindt zicht de 'Paseo de las Estrellas' met sterren zoals op de Walk of Fame in Hollywood, een eerbetoon aan de vele acteurs en actrices welke hier in juli te vinden zijn.
Bovenop de klif van Albir (Punta Bombarda) staat de vuurtoren met schitterende vergezichten over de Mediterraanse zee, el Peñon de Ifach en Altea, het stadje in de heuvels met haar duidelijk herkenbare Vuurtoren Albirkerk met blauwe koepels. De vuurtoren is alleen te voet bereikbaar (5 kilometer).
U kunt ook de botanische beeldentuin (20.000 m2) van Jan Klein en Joke Schreuder in L'Alfàz del Pi bezoeken. Een tuinwandeling met veel geurende bloemen en planten, passend in een streekarchitectuur. Er bevinden zich 21 beelden van voornamelijk jonge Spaanse beeldhouwers in de tuin.
Winkelen in Albir
Aan de hoofdstraat van Albir is er elke zondagochtend een gezellige markt en op vrijdagochtend kunt de markt bezoeken in L'Alfàz del Pi, nabij de kerk. Bezoek ook de drukke markt in het dichtbij gelegen Altea op Markt Alfaz del Pi dinsdagmorgen of de grote markt in Benidorm op zondag. Alle markten zijn goed te bereiken met het openbaar vervoer of per auto. Daarna een wandeling over de marmeren promenade van Albir en een' menu del dia' of een 'cerveza' (daar zijn de mannen wel aan toe!) in één van de vele barretjes of restaurantjes langs het strand. De parkrivier kruist halverwege de boulevard welke met palmen en heesters beplant is.
Playa Albir
Is bezaaid met leuke kleinere winkeltjes maar ook supermarkten voor de dagelijkse behoefte. Wil men echt gaan shoppen dan is Benidorm een meer aangewezen plaats.
Uitgaan en restaurantjes Albir
Er zijn veel soorten restaurantjes in Albir en l'Alfàz del Pi. Van ontbijt, een lunch op het strand, tapas tot BBQ met spare-ribs, hamburgers en natuurlijk Chinees en frit. Verder Franse gourmet, Italiaans of Indiaans of typische Spaans. Maar ook restaurants met echt tafellinnen, waar het hoofdmenu wordt geserveerd op lekkere warme borden zodat het eten niet meteen afkoelt, met kwalitatief hoogstaande gerechten. Tip: voor het echte bruisende nachtleven is Benidorm de aangewezen plaats.
Real estate in L' Alfz del pi, Real estate imm, immo spanje , vastgoed in Spanje