Villajoyosa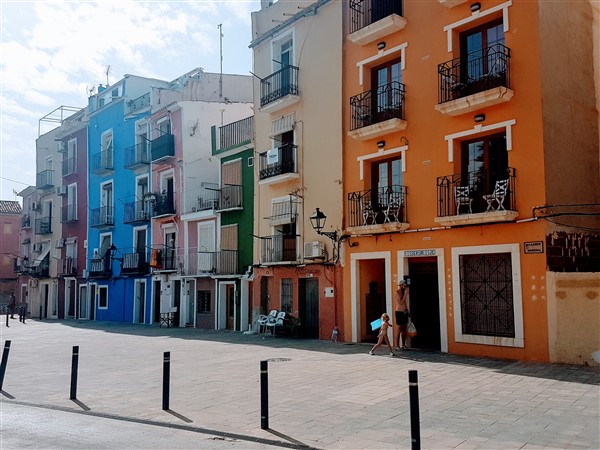 VILLAJOYOSA  AND REAL ESTATE IMMO
Villajoyosa is also called La Vila Joiosa and it is the capital of the Marina Baja region. The Amadòrio River runs through Villajoyosa. The fishing village originated in the Bronze Age and the hill where the old town is located, was an Iberian settlement. In the past Villajoyosa was also called 'Alonis' and in the center there were several bath houses.
In the Middle Ages, the city that was then called 'Alonis' was taken over by King Jaime I and became a Christian village. The name was changed to the Valencian name 'La Vila Joiosa (This also means' the happy city')
During the seventeenth century Villajoyosa played an important role in defending the coastline of the province of Alicante against the numerous Barbary pirates. King Felipe II has created new city walls and many watchtowers / watchtowers. In the late seventeenth century, these attacks by the Barbary pirates were finally over and this was the beginning of an urban growth. Villajoyosa now has more than 30,000 inhabitants. The village has a long maritime tradition and is currently very familiar with its delicious chocolate industry!
SIGHTS OLD CENTER
In the old town you can still admire the walls of the Renaissance and the church l'Assumpció that radiates Catalan Gothic.
THE MANY TOWERS
As mentioned earlier, this town played an important role in defending the coast. For this purpose several lookout towers were built and these are still on display. Such as the Torre Simeón, Torre del Aguiló and Torre del Charco built in the sixteenth century.
THE BEACH
Villajoyosa is located directly on the sea and has a 3.5 km long beach! In some places the width of the beach is almost 100 meters! The most characteristic of the beach, and actually also Villajoyosa itself, are the typical and cheerful colored fishermen's houses along the beach of the town. These houses were painted with these cheerful and bright colors so that the fishermen could see exactly from where they had to go to the home front.
Real estate immo, Real estate in Villajoyosa, Immo Spanje
VILLOJOYOSA EN REAL ESTATE IMMO
 Villajoyosa ook wel La Vila Joiosa genoemd en het is de hoofdstad van de regio Marina Baja. Door Villajoyosa loopt de rivier Amadòrio. Het vissersdorpje ontstond in de Bronstijd en de heuvel waar de oude stad is gelegen, was een Iberische nederzetting. Vroeger werd Villajoyosa ook wel 'Alonis' genoemd en in het centrum waren er verschillende badhuizen.
In de middeleeuwen werd de stad die toen 'Alonis' genoemd werd overgenomen door koning Jaime I en werd een christelijk dorp. De naam werd veranderd in de Valenciaanse naam 'La Vila Joiosa (Dit betekent ook wel 'de vrolijke stad')
Tijdens de zeventiende eeuw speelde Villajoyosa een belangrijke rol in het verdedigen van de kustlijn van de provincie Alicante tegen de talrijke Barbarijse zeerovers. Koning Felipe II heeft gezorgd voor nieuwe stadsmuren en vele uitkijktorens/wachttorens. In de late zeventiende eeuw waren deze aanvallen door de Barbarijse zeerovers eindelijk voorbij en dit was gelijk het begin van een stedelijke groei. Villajoyosa bezit nu meer dan 30.000 inwoners. Het dorpje heeft een lange zeevaarttraditie en is momenteel erg bekend met zijn heerlijke chocolade-industrie!
BEZIENSWAARDIGHEDEN
OUDE CENTRUM
In het oude centrum kan je de muren uit de Renaissance nog steeds bewonderen en de kerk l'Assumpció die de Catalaanse gotiek uitstraalt.
DE VELE TORENS
Zoals al eerder verteld, speelde dit stadje een belangrijke rol in het verdedigen van de kust. Hiervoor werden er verschillende uitkijktorens gebouwd en deze zijn nog steeds te bezichtigen. Zoals de Torre Simeón, Torre del Aguiló en Torre del Charco die gebouwd zijn in de zestiende eeuw.
HET STRAND
Villajoyosa is direct gelegen aan de zee en heeft een 3,5 kilometer lang strand! Op sommige plekken is de breedte van het strand wel bijna 100 meter!. Het meest karakteristiekste aan het strand, en eigenlijk ook aan Villajoyosa zelf, zijn de typische en vrolijke gekleurde vissershuisjes langs het strand van het stadje. Deze huisjes zijn geschilderd met deze vrolijke en felle kleuren zodat de vissers via deze manier vanaf zee precies konden zien waar zij heen moesten om naar het thuisfront te gaan.
Immo spanje, Vastgoed in Spanje  Real estate Immo
L'Alfàz del Pi and Real Estate Immo
From L'Alfàz del Pi towards the sea, you can see the 'Paseo de las Estrellas' with stars like on the Walk of Fame in Hollywood, a tribute to the many actors and actresses that can be found here in July.
On top of the cliff of Albir (Punta Bombarda) is the lighthouse with magnificent views over the Mediterranean sea, El Peñon de Ifach and Altea, the town in the hills with its clearly recognizable Lighthouse Albirkerk with blue domes. The lighthouse can only be reached on foot (5 kilometers).
You can also visit the botanical sculpture garden (20,000 m2) by Jan Klein and Joke Schreuder in L'Alfàz del Pi. A garden walk with lots of scented flowers and plants, fitting into a regional architecture. There are 21 statues of mainly young Spanish sculptors in the garden.